Event Packages (Team Building- Office Parties- Group/Sales Meetings)
Looking for "venues near me" for your next corporate event? Team building activities help people understand the importance of working together. A company is more productive when everyone works together for a common goal. At Rocket World you and your work group can let your inner child come out! Not only is Rocket World a productive meeting place but we are also ideal for team building activities with our fun and unique space-themed atmosphere. Schedule your next corporate meeting today, and end your search for "venues near me."
This package is ideal for groups of 15 guests or more.
A Minimum of 10 Guests are Required to Book Your Event.
Saturn
Weekday Prices: $29.00 / Adult
Monday to Thursday
If a guest would like to bring their child to play while they attend their corporate meeting. the cost is $15.99
Private Party room
2 Private Laser Tag Games per Person
1 $15.00 Arcade Game Card
1 Party Host
Bluetooth speaker
1 Reality Virtuality Game
* Additional Options: feel free to add food to your order.
* All Options Include: unlimited Soda, 1Cookies, and 1 ice Cream
* Available: wine and beer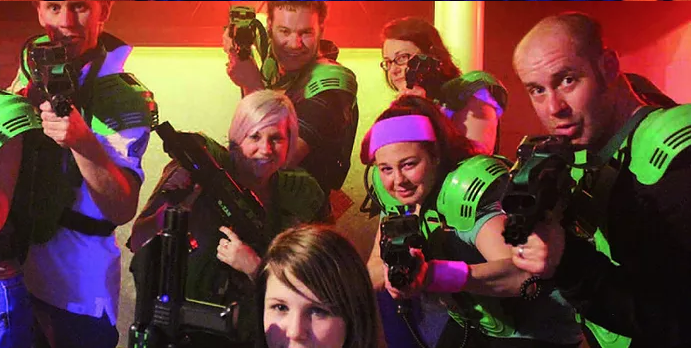 Need Additional Food, Decorations or Passes?
 Click below to see all of the fun gaming options, delicious food and to select decor to finish out your party planning. At Rocket World we make throwing your event easy. With only a few clicks, you can obtain everything that you need to make them smile.
Fill Out Your Waiver Please
Everyone that visits Rocket World is required to fill out a waiver to use our facilities. Please fill yours out ahead of time and make checking in faster and easier.
View our Current Promotions
Celebrate Your Special Day at Rocket World!
Host your events at Rocket World and entertain your guests with our out of this world attractions! Make every moment special, regardless of the occasion! We have the secret to awesome birthday parties, all types of group events, and easy fundraisers.